So it's been 5 weeks since I landed in Florida. It's been great to be back with my family after working my last few weeks in the ER. We have settled into a rhythm of sorts here in Florida. The day starts early with the patter of little feet coming to wake me up. Stretch and check out what the surf looks like from the balcony. Then coffee and more coffee, as the day begins with school. Zoe and I team up to tackle 1st grade subjects. Initially, there was some 6 year old push back adjusting to a new teacher and flow, but we are on a good roll now. It's been great to see how things connect in Zoe's head. And I am having to learn how to be creative to teaching her new subjects. Joss is soaking up everything that Gaga has to offer her and is already started on basic sight words.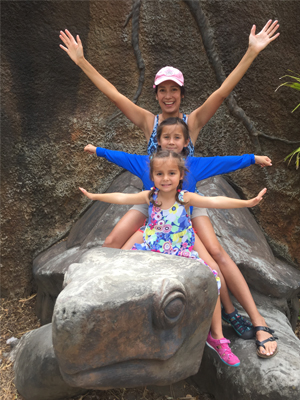 The guys head out to the boatyard for long 12 hour days. There's always a project to be done or a contractor to get in touch with. This is probably the biggest refit that Exit Only has ever had. It's already been 5 months since the work started. The guys have done so much already – cleaned out the boat, wiped down all the surfaces, removed the cabin liner, prepped the surfaces, sewed together liner panels, glued and replaced the cabin liner, pulled the water tanks to have them fixed, removed the windmills, removed and replaced the solar panels, replaced the thru hulls, updated the plumbing, sewed their own trampolines, pulled the engines, removed the bow pulpit, had the mast removed/painted and re-inserted, and sooo much more …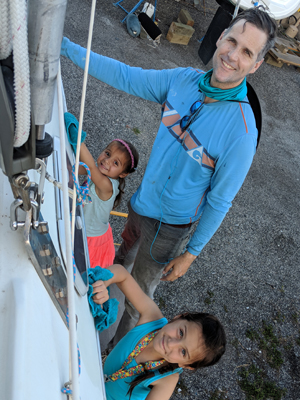 What's left to do? Rigging needs to be completed by contractors who just put the mast back up. Bow pulpit needs to be welded by contractor and then re-attached. New engine shafts need to be re-attached. New lifelines will be installed once the bow pulpit is completed … what we seem to have found, consistently and unfortunately, that unless you do the job yourself or stay on top of the contractors, stuff just doesn't get done (and at times has not been done right).
<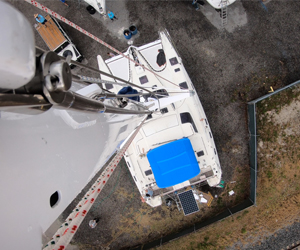 And so that's where we are right now … We had hoped to already be out on the water at this point. It has been frustrating at times. It can be discouraging. We are up against the clock in some ways as we consider the impending hurricane season. But once this boat is done, it's going to be bullet proof. Oh the adventures we are ready to have! We are all dreaming of turquoise waters, tropical breezes, family movie nights … But for right now I am grateful. So thankful for this opportunity even as we work and wait and hope. Thankful that my kids get to spend this time with their family. Thankful that we are working all together towards a family dream. Thankful to see the beautiful sunrise over the ocean every morning.
Because of the Lord's great love we are not consumed, for his compassions never fail. They are new every morning; great is your faithfulness." Lam 3:22-23
Don't forget to check out our Instagram feed @ Maxingoutlife to see all our latest pictures and videos of the refit!