We are always looking to maximize storage on Exit Only. Recently Dito sat down at the heavy-duty sewing machine to help Sarah and I create more storage in the cabins.
Sarah and I had gone shopping for nautical-printed fabric that we could use to make simple shapes we call "Tootsie Rolls". Going with our desire to keep it simple, we cut the fabric into four lengths of 50". Dito sewed a simple hem across both ends of each piece. Next, we turned each piece inside out and sewed the two selvage edges together. I bought wide shoestrings that we will use to tie one end of the "Tootsie Roll"closed. Once the soft stored articles are put into the tube, the second end will be tied with a second shoestring.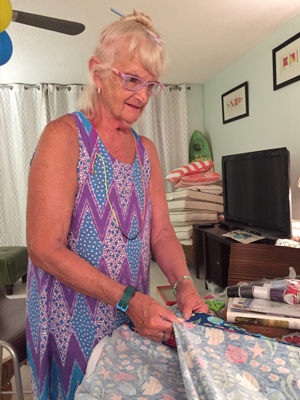 We use this type of storage mixed with standard pillows on the bunks. Warm clothing we do not need right now, extra sheets and towels, etc are put into ziplock bags with a dryer sheet to keep things clean and fresh. Then we put the sealed bags into the tube of fabric and tie the second end closed.